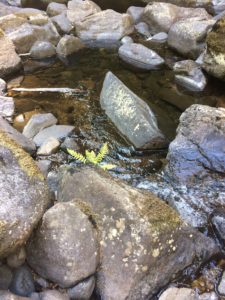 OCWAP's current focus is on working toward 100% compliance with the Clean Water Act in Lane and Linn Counties. (While these two counties are our current area of geographic focus, OCWAP also works on water pollution issues in areas of the state outside of these two counties, just not with the same comprehensive scope as our Lane and Linn County work . . . yet.)
How We Find Clean Water Act Violations: The primary way that we find Clean Water Act violations is by reviewing the discharge reports of facilities with Clean Water Act permits as soon as we can get our hands on them. We've built excellent relationships with regulatory agencies that administer the Clean Water Act in Oregon (including the Oregon Department of Environmental Quality, the Oregon Department of Agriculture, the Oregon Department of Geology and Mineral Industries, and the Cities of Eugene and Springfield), and these relationships are crucial to our ability to review discharge reports in a timely manner, whether they are submitted to regulatory agencies on a monthly, quarterly, or yearly basis. We also hear of Clean Water Act violations from community members who contact us to report them (for example, illegal/unpermitted discharges).
How We Eliminate Violations: Our efforts to eliminate violations range from phone calls or emails to responsive violators at one end of the enforcement spectrum, all the way to Clean Water Act suits in federal court against particularly unresponsive violators.
What You'll Find On Our Web Site: We've recently updated our website to focus on providing information about the 2,775 Clean Water Act-permitted discharges in Oregon that are administered by the Oregon Department of Environmental Quality (DEQ). Of these 2,775 discharges, 329 of them are permitted via what are called individual permits, while the rest (2,446) are permitted via what are called general permits. Of the 329 individual permits, 228 are currently expired.*
*Current as of April 18, 2021 at 6:30 PM. Unless otherwise noted, figures on this site are based on OCWAP's most recent query of Oregon DEQ's database. OCWAP queries this database once a day after 5 PM Pacific Time.